Cat suites
Fusion Pet Retreat luxury cat suites offer all the amenities of the cat condos, while also providing your cat a larger, peaceful, completely private getaway. $35 per day.
Private – Each room is completely private, so cats can relax in peace.
Quiet – Each room has a private door entrance and full walls, allowing cats a quiet sanctuary while they are resting.
Luxurious – Rooms have an exterior window so cats can enjoy natural light during their stay.
Spacious – Rooms measure roughly 4'x8'′
Clean – Daily room cleaning during a pet's stay and full room sanitization between each guest.
Multi-Cat Friendly – These rooms can comfortably accommodate cats from the same family. (Each additional cat gets a 10% Rate Discount)
Included in Cat Wing Suites:
Cat Tree – a cat tree in each of our suites, gives your cat a place to climb or relax.
Enrichment Time – all of our feline guests enjoy enrichment time in our large cat room. Cats are not mingled with other cats, but can enjoy adventure time on their own.
Litter Boxes – cats boxes and litter provided free of charge. Litter boxes are cleaned twice daily.
Medication and Food Administration – We never charge more for accommodating a pet's special diet.
Water and Food Dishes – We clean cat food dishes after every meal and ensure that their water dish is always filled with fresh water.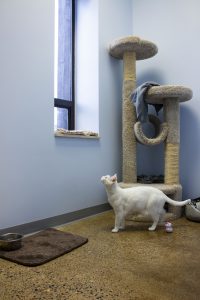 RESERVATIONS
To make a reservation, please click on the button below. We can also take reservations by phone at (952) 936 – 9000 or email at info@fusionpetretreat.com.
Make a Reservation
TAKE A TOUR
We welcome tours at any time during normal business hours. To reserve time for a tour, please click on the button below.
Request a Tour